Moyola takes part in major salmon research
17 October 2008

As part of the NASCO research a number of juvenile salmon, will be taken from the river. These fingerling and smolts will be DNA-fingerprinted, which means that a Moyola salmon can be identified, whether caught at sea, or in the rivers of another country.

The unique international scientific mission, is to investigate the increasing mortality of salmon at sea
The project – SALSEA-Merge – is designed to explore and understand the migration and distribution of salmon in the North-East Atlantic. It involves three marine survey voyages during both 2008 and 2009 and will use cutting edge DNA technology.

The £4.5 million SALSEA-Merge project, a public private partnership, is funded by the European Union with significant contributions from a consortium of interested parties including the Atlantic Salmon Trust, the North Atlantic Salmon Conservation Organisation's International Atlantic Salmon Research Board (IASRB) and the TOTAL Foundation.

The project is a key component of the IASRB's SALSEA Programme, which also includes freshwater, estuarine and inshore components.
The project's mission is, through following juvenile salmon from southern Europe to the Barents Sea in the far North, to map the migration and the distribution of salmon stocks at sea using cutting-edge genetic fingerprint technology, which has already facilitated the mapping of all of the major salmon stocks in Europe. Using methods similar to the DNA analysis used in tracking criminals, it identifies individual fish caught at sea by analysing their natural genetic code, which can then be matched back to their region or river of origin.

Dr Ken Whelan, President of NASCO and Chairman of NASCO's International Atlantic Salmon Research Board (IASRB), explained: "An increasing proportion of salmon are dying at sea. Wild salmon face extinction in some southern rivers on both sides of the North Atlantic and no one fully understands why. There are many theories and far more questions, but as yet no sound research base on which rational action can be taken. That is what SALSEA-Merge is all about – to provide answers".

Tony Andrews, Director of the Atlantic Salmon Trust, commented: "The Atlantic Salmon Trust has supported SALSEA from the beginning. This vital multi-national project now has the resources to research the mysteries of the salmon's life at sea. Our commitment to SALSEA is based on the need to understand how Atlantic salmon are coping with unprecedented changes in the North Atlantic marine environment caused by climate change and why stocks have declined so dramatically in the last 40 years".

Mr Andrews continued: "Research on its own will not be enough to prevent salmon stocks declining further. It should be seen as the precursor to concerted action, without which the future of the salmon is in peril. Armed with the facts we will join with other UK salmon organisations to persuade governments to act to prevent further decline. This project is not just about salmon because they, like sharks and tuna, are long range migrants and thus are barometers of the health of the marine environment".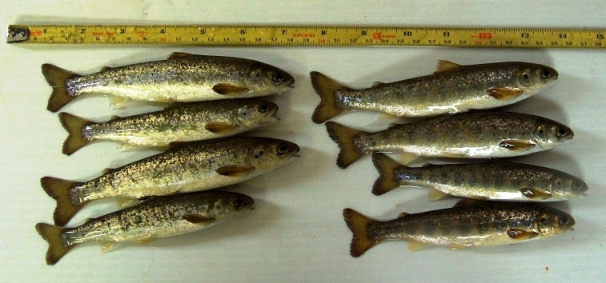 Dr Malcolm Windsor, Secretary of NASCO, said: "It is very difficult to conserve and restore salmon stocks against a backdrop of increasingly poor marine survival. In the last three decades we have made tremendous advances in our knowledge of salmon in the freshwater environment. However this work may all be in vain if we cannot arrest the fall in marine survival. The SALSEA Programme seeks to identify the factors causing the increased mortality of salmon at sea and the opportunities to counteract them".

SALSEA-Merge is a unique partnership of geneticists, ecologists, oceanographers and ocean modellers who have pooled their talents to address a vital issue. In addition to the EU funded SALSEA-Merge programme, there is also a parallel programme taking place in August of this year with Canadian and US involvement; their survey will match in the North-West Atlantic what the SALSEA-Merge programme is undertaking in the east. There will also be an extended international sampling programme at West Greenland, which began in 2007.
Michael McGlade
View Gallery