Moyola in Top Ten
The Moyola River has been named in a 'Top 10 fishing spots of the World' list, by a renowned travel writer.
A gentle lake in Connemara or the gin-clear waters of New Zealandís River Lochy? Brown trout or rainbow?
Guardian travel editor Andy Pietrasik was clearly impressed with our very own Moyola.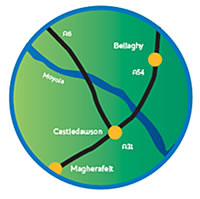 If you have any related news items about the Moyola River, or if you have recently visited the River and would like to express your views then please email
info@moyolaangling.com