History
Four men met in a car outside the Moyola Lodge in Castledawson in 1982.
John McCormack, Patsy McCann, Norman Doherty and Maurice Lennox discussed forming a fishing club on the 27-mile Moyola River which had flowed through their lives, providing them with exceptional sport and companionship.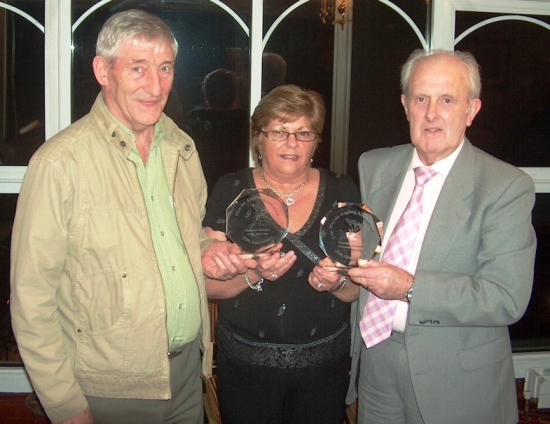 And so the Moyola and District Angling Club was formed.

Unfortunately things didnít get off to a great start, as the car ran out of petrol and they had to push it back to Castledawson.
From there John Clarke and Jimmy Scullion held meetings in Tobermore and Draperstown which
both
had a very positive response.

The first club chairman was Stan Inglis. Kenny McCracken sorted out the legalities and leases.
Robert Hueston took up the post of treasurer, a post which he still does a fantastic job of today.
Tommy McGrath became competition secretary and along with Tommy Maguire and his son Philip looked after what can only be described as the heart beat of our club.
The club would like to hear from anyone who would like to share their memories and stories from the early days. You can do so by leaving a comment in the 'guestbook' section. We would also really appreciate any old photographs.
The competitions are more of a sociable event
,
w
h
ere we meet to hear who can tell the biggest lie.
They not only bring communities together but also
b
ridge the generation gap within the club.
When the club decided to start its own hatchery a huge amount of effort was required.
Firstly Paddy Gray provided the land and has always been on hand to check the eggs if weather conditions prevented us from getting up the mountain.

Maurice Dorrity did all the plumbing, while John McCombe and Michael Holgate put a huge amount of effort into getting the hatchery operational. We have a fantastic and forward thinking committee. Anyone of which is always at the end of the phone when a bit of advice is needed.
The club has had its highs and lows over the years and when things got t

ough

one man stood up and took it upon himself to inject some fresh momentum into the members. Mervyn Finlay organised work parties to clean different parts of the river. This got everyone interested once more and I donít think weíve looked back since. This type of work ethic is still an integral part of the club.
Indeed it

is also

true to say that, the club that plays together stays together...
With such a distinguished past, a bright future for the Moyola Angling Association and its up-coming generation of anglers is assured.
Compiled by Seamus Donnelly [Chairman MAA] and Michael McGlade