Dollaghan fishing
You can catch a brown trout or salmon in rivers across the world, but the Moyola is one of only a handful of rivers where you can catch a dollaghan.
Unique to the Lough Neagh rivers, dollaghan are large trout which migrate from the Lough upstream to spawn in much the same way as salmon, and many of these impressive trout surpass their sea-faring cousins in size and stature.
With a much shorter distance to travel the dollaghan begin running the Moyola from May onwards, and with plenty of water, there can be good numbers of these mysterious fish in the river by the summer months.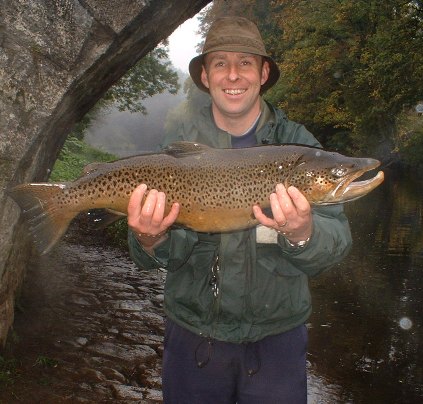 Although they are very similar in appearance to brown trout, they usually are lacking any red spots. Indeed there are several variations in dollaghan, with some of the trout displaying large black spots, while other dollaghan have smaller spots and have a silvery sea-trout appearance.
Unlike salmon the dollaghan continue to feed when they enter the river, although they are notoriously nocternal. Similar to seatrout, the dollaghan usually become active from late evening right through into darkness.
In the Moyola, the early season Dollaghan tend to favour the deeper, darker waters of the Ballynahone and lower Curran stretches, although there are many more hotspots known to the local anglers.
With prevailing low water conditions, dollaghan fishing can be very productive. One of the proven methods is to fish the muddlers on the top of the water, creating a wake across the surface.
Dollaghan are also captured with the more conventional wet flies fished slow and deep. Large wet flies such as the Green Peter, Black Pennel and Invicta can be used, as well as salmon shrimp flies such as the Wilkinson.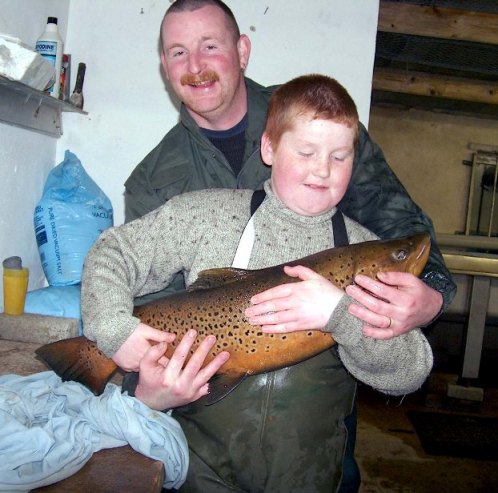 A warm, dark night with a downstream breeze are considered to be favourable conditions for night fishing.
In a spate, dollaghan can be caught on salmon flies and also wet flies as well as spinning and worms.
Moyola Anglers such as Peter Walls, Mervyn Finlay and Philip Maguire have in recent years caught some magnificent dollaghan. Some huge dollaghan estimated to be in the region of 20lb have been captured during the electrofishing.