Plan B - chuck and hope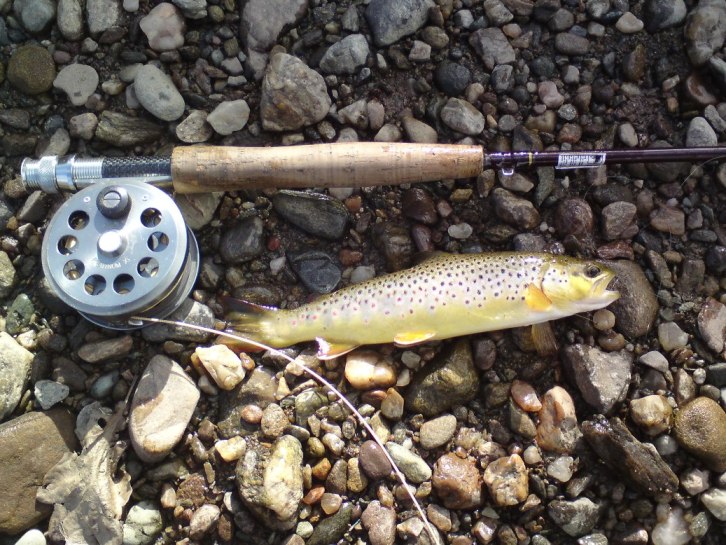 By: Seamus Donnelly
They say that size doesn't matter. Well I can't say that this applies to angling, especially along the banks of the Moyola.
Mervyn Finlay is one of the best anglers I know but his tales of the one that got away would never stand up in a court of law.
Many a fish caught and returned (Mervyn doesn't like to kill his prize) downstream of Curran, have grown to twice their size between the river and home.
Admittedly I think we're all the same. And the reason we add on a few inches or an odd pound is not because we want to be butch but more the fact that we appreciate that little trout so much that when the story is retold to friends and family,
We want them to understand how much fun we had catching it . Catching your first salmon can be likened to a golfers first hole in one, or a strikers last minute winner in front of the home fans.
On March 1st I headed up to a secret spot somewhere between Curran and Tobermore known as Ballynahone.
Armed with a 9ft 5wt fly rod, floating line with tungsten bead hares ear nymph on the end of a 3lb leader.
Walking across the fields from the car to the first pool, I planned my assault with military precision as I do on every trek to the river. After all perfect planning prevents poor performance or the four p's for short.
The first cast of the new season was woeful....... the heavy nymph, strong breeze and rusty technique made my casting a nightmare.
Plan B meant chuck and hope. So out went the nymph across the fast run , as the line swung round in the current my expectations grew. The line slowed and the fly rose up in the water I felt that wonderful pull that all anglers crave. It was a trout, my first trout of the season. 9 inches of beautiful wild brown trout. No need to add any weight or length to his beauty it was my first trout of the new season.
I gave him the customary kiss before sending him on his way.
Altogether I caught eight wee brownies on the same fly. No monsters among them but if your talking to Mervyn I had one at 1 ˝ lb and lost one bigger...
It was great to see the amount of hard work carried along the river by the Rivers Agency. This is in response to the damage caused by the "Great Flood Of August 08". We all cry out for a flood to help migrating fish get upstream, but hopefully we have seen the last flood of this magnitude for a long time..